THESE ARE OLD NEWS!

Please find here a collection of news items from our old website.
They cover the period from when we started our news section in 2006 to the opening of our small branch in Berlin in 2010.

Times were different back then. Or were they? Our news had a twitter-like shortness and ended with a #read more# link that led to more information either on our own website or elsewhere.
We aim to reinstate these links, please bear with us!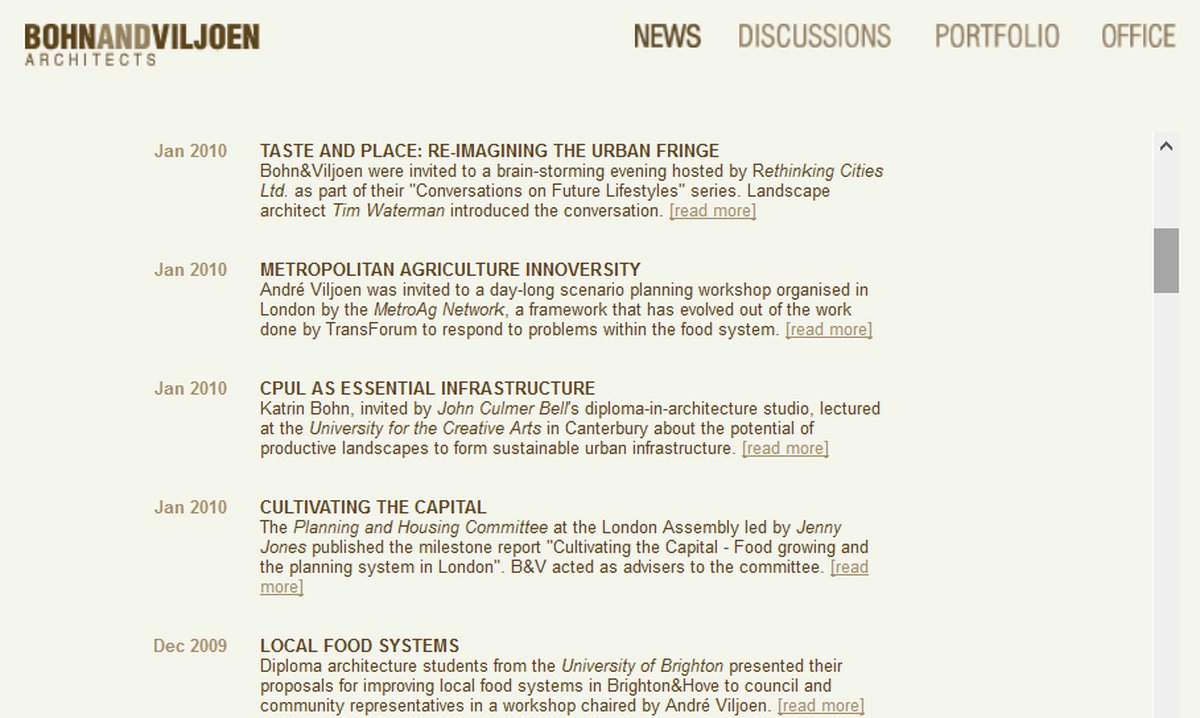 Mar 2010 : RHYZOM AT ABBEY GARDENS
Katrin Bohn represented B&V at a 2-day RHYZOM workshop organised by publicworks at Abbey Gardens, the site of artists′ commission "What will the Harvest Be?" aimed at reviving a neglected piece of land in Newham, East London. [read more]

Mar 2010 : VERTICAL FARMING
André Viljoen was interviewed by tv presenter James Wong for BBC 1′s "Countryfile" programme on vertical farming. The feature was broadcasted on Sunday, 7th March. [read more]

Mar 2010 : CPUL CITY
B&V spoke at the "sustainable by design" seminar, part of Ecobuild′s renowned seminar programme. Ecobuild is Britain′s biggest showcase for sustainable construction and the built environment. [read more]

Feb 2010 : THE SHOREDITCH TRIPTYCH
"Vertical Gardens" an exhibition curated by and first held at Exit Art New York, USA, has opened at the San Francisco chapter of the American Institute of Architects. B&V show a 3-piece drawing of a high-rise / high-density proposal for a site in London. [read more]

Feb 2010 : AESOP 2nd EUROPEAN SUSTAINABLE FOOD PLANNING CONFERENCE
The conference website has gone live! Watch this space! In March, the call for papers will go out for this international conference to be held in October 2010 at the University of Brighton. [read more]

Feb 2010 : CPUL CITY
Katrin Bohn gave a talk to architecture students at the University of Brighton about Bohn&Viljoen′s design research work as part of the lunchtime talk series organised by Michael Chadwick. [read more]

Jan 2010 : TASTE AND PLACE: RE-IMAGINING THE URBAN FRINGE
Bohn&Viljoen were invited to a brain-storming evening hosted by Rethinking Cities Ltd. as part of their "Conversations on Future Lifestyles" series. Landscape architect Tim Waterman introduced the conversation. [read more]

Jan 2010 : METROPOLITAN AGRICULTURE INNOVERSITY
André Viljoen was invited to a day-long scenario planning workshop organised in London by the MetroAg Network, a framework that has evolved out of the work done by TransForum to respond to problems within the food system. [read more]

Jan 2010 : CPUL AS ESSENTIAL INFRASTRUCTURE
Katrin Bohn, invited by John Culmer Bell′s diploma-in-architecture studio, lectured at the University for the Creative Arts in Canterbury about the potential of productive landscapes to form sustainable urban infrastructure. [read more]

Jan 2010 : CULTIVATING THE CAPITAL
The Planning and Housing Committee at the London Assembly led by Jenny Jones published the milestone report "Cultivating the Capital - Food growing and the planning system in London". B&V acted as advisers to the committee. [read more]
Dec 2009 : LOCAL FOOD SYSTEMS
Diploma architecture students from the University of Brighton presented their proposals for improving local food systems in Brighton&Hove to council and community representatives in a workshop chaired by André Viljoen. [read more]

Dec 2009 : METROPOLITAN AGRICULTURE INNOVERSITY
In preparation of their first workshop in Britain, André Viljoen was consulted by international groups Reos and TransForum on questions about innovation in urban agriculture and food systems. [read more]

Dec 2009 : UNLOCKING SPACES
Katrin Bohn, as design researcher at the University of Brighton, has been commissioned to produce an exhibition/event on productive landscapes in Brighton&Hove as part of the Creative Campus Initiative / London 2012. [read more]

Nov 2009 : CARROT CITY ON SHOW
"Carrot City - Designing for Urban Agriculture" curated by M Gorgolewski, J Komisar and J Nasr was shown at the Royal Agricultural Winter Fair in Toronto, Canada. B&V contributed work on the CPUL concept. [read more]

Nov 2009 : THE CLEAR VILLAGE LAB BARCELONA
André Viljoen represented B&V at a 3-day workshop hosted by the Institute of Advanced Architecture Barcelona, Spain, and run by the CLEAR Village Foundation to jumpstart the design process for a real life village. [read more]

Nov 2009 : URBAN PERFORMANCE GOES LIVE
Katrin Bohn and André Viljoen are founder members of The University of Brighton's Urban Performance Group, a multi-disciplinary research group in the Faculty of Arts' School of Architecture and Design. [read more]

Oct 2009 : THE CPUL CITY - UNDERSTANDING URBAN AGRICULTURE
Bohn&Viljoen run a public workshop at The Bigger Picture's "Festival of Interdependence", a day-long event organised by London-based nef (The New Economics Foundation). [read more]

Oct 2009 : UTILITARIAN DREAMS HAVANA : THE BRIGHTON DIALOGUE
The University of Brighton's Design Research Institute hosted a public event to mark the UK-launch of two catalogues documenting "Utilitarian Dreams Havana", a collaborative project between artists and architects, including Katrin Bohn and André Viljoen. [read more]

Oct 2009 : TALKING ABOUT THE FUTURE
Katrin Bohn and André Viljoen were invited by artist-architect Fritz Haeg to each choose and talk about a 'book for the future' during Haeg's presentation of "The Sundown Salon Unfolding Archive" held at the Architecture Foundation London. [read more]

Oct 2009 : ACTIONS OPENS AT THE GRAHAM FOUNDATION
The exhibition "Actions: What you can do with the city" curated by and previously shown at the Canadian Centre for Architecture Montréal opened at the Graham Foundation for Advanced Studies in the Fine Arts in Chicago, USA. It includes images and artefacts of B&V's "Continuous Picnic". [read more]

Oct 2009 : CPUL : A PROJECT-LED APPROACH TO HEALTHY CITIES
André Viljoen presented the CPUL design concept to Chinese government officials of the Minhang District of Shanghai visiting the University of Brighton. The delegation was looking at creating a 'healthy' environment and combining that with town planning. [read more]

Oct 2009 : 1ST EUROPEAN SUSTAINABLE FOOD PLANNING CONFERENCE
André Viljoen was invited participant of the "1st European Sustainable Food Planning Conference" in Almere, The Netherlands, organised by AESOP, the Association of European Schools of Planning, amongst others. [read more]
Oct 2009 : THE GÜNT(H)ER PROJECT : WHAT DOES URBAN AGRICULTURE ACTUALLY REVERSE?
B&V teamed up with Cuban art critic Villalonga and Cuban urban designer Peña Diaz to contribute an illustrated dialogue to the international art and architecture exhibition "Insiders: Pratiques, usages, savoir-faire" organised by arc-en-rêve and CAPC in Bordeaux, France. [read more]

Sep 2009 : HARVEST BRIGHTON&HOVE
Official project launch of this multi-disciplinary National Lottery beacon project looking at food growing in Brighton&Hove. André Viljoen and Katrin Bohn, in their roles as researchers at the University of Brighton, are project partners. [read more]

Sep 2009 : THE IDEA OF EMBODIED DESIRE IN THE ESTABLISHMENT OF CONTINUOUS PRODUCTIVE URBAN LANDSCAPES
Katrin Bohn delivered a joint paper with Mikey Tomkins at the 4th International Interdisciplinary Conference "The Politics of Space and Place" hosted by the Centre for Applied Philosophy, Politics and Ethics (CAPPE) at the University of Brighton. [read more]

Sep 2009 : WHAT DOES SUSTAINABLE DESIGN MEAN TO YOU?
Bohn&Viljoen took part in an installation about sustainable design organised by the CLEAR Village Foundation at "Copenhagen Design Week" to mark the launch of CLEAR's five-year participatory sustainable design project. [read more]

Jul 2009 : LUP#12 : CONTINUOUS PRODUCTIVE URBAN LANDSCAPES
LUP, the laboratory for participatory urbanism (laboratoire d'urbanisme participatif), publishes a newspaper on B&V's urban design concept following Katrin Bohn's open lecture in Paris earlier this year. [read more]

Jul 2009 : UTILITARIAN DREAMS HAVANA
Proyecto Batiscafo, the artist-run residency programme in Havana, part of the Triangle Arts Trust, has disseminated a catalogue of all 2006 and 2007 residencies including Bohn&Viljoen's collaborative project with Cuban and British artists and architects. [read more]

Jul 2009 : GROWING BALCONIES
As part of "Edible Spaces with Capital Growth" - an installation on urban food growing at the Royal Horticultural Society Hampton Court Palace Flower Show - B&V designed and built two hydroponic balconies in collaboration with Hadlow College and Sustain. [read more]

Jul 2009 : CPUL: ESSENTIAL INFRASTRUCTURE AND EDIBLE ORNAMENT
The academic journal Open House International published a refereed article by André Viljoen and Katrin Bohn in their issue "Designing Edible Landscapes" which explores ways to integrate productive planting as a permanent feature of cities. [read more]

Jun 2009 : LONDON CPUL CITY
Bohn&Viljoen exhibited CPUL maps, collages and statistical data at "Foodprint", the international art and architecture exhibition on food and the city curated by Marieke Berkers for Dutch art organisation Stroom. [read more]

Jun 2009 : FOODSCAPES: KANSEN VOOR EEN EETBARE SCHILDERSWIJK
Bohn&Viljoen discussed the introduction of productive landscapes into Dutch city Den Haag with food artist Debra Solomon as part of the symposium "Foodprint: Voedsel voor the stad" (Food for the City) run by Dutch art organisation Stroom. [read more]

Jun 2009 : SEEDS OF AN EDIBLE CITY ARCHITECTURE
Nature magazine published an article by John Whitfield about urban agriculture featuring, amongst others, B&V work recently exhibited in London and New York and B&V concepts on urban food growing. [read more]

Jun 2009 : PLACES FOR PEOPLE, PLACES FOR PLANTS
André Viljoen delivered a keynote lecture on B&V's CPUL urban design concept at the 2nd International Conference on Landscape and Urban Horticulture in Bologna, Italy. [read more]
Jun 2009 : URBAN AGRICULTURE
As researchers at the University of Brighton, André Viljoen and Katrin Bohn have been shortlisted for the University's Research and Innovation Award 2009 for their CPUL design research. [read more]

May 2009 : LONDON YIELDS SYMPOSIUM
Bohn&Viljoen were invited to speak at a one-day symposium on urban agriculture accompanying the Building Centre's exhibition London Yields: Urban Agriculture. [read more]

May 2009 : THE EDIBLE CITY : DOWN ON THE URBAN FARM
Bohn&Viljoen's sustainable urban design concepts feature in Icon Magazine's latest issue "The Edible City" dedicated to urban farming and edited by William Wiles. [read more]

May 2009 : HARVEST BRIGHTON&HOVE
Katrin Bohn and André Viljoen, in their roles as researchers at the University of Brighton, are part of a group who won Big Lottery funding for a project looking at food growing in Brighton&Hove. [read more]

May 2009 : THE FUTURE OF OUR FOOD
André Viljoen spoke in Brixton, London, at a public event and debate about urban food growing organised by Transition Town Brixton. [read more]

May 2009 : "VERTICAL GARDENS" EXTENDED
The art and architecture exhibition at Exit Art New York has been extended to June 6th. B&V exhibit The Shoreditch Triptych in this show by SEA about envisioning solutions for building greener urban environments. [read more]

Apr 2009 : LUP#12 : PRIERE DE MARCHER SUR LES PELOUSES
Katrin Bohn presented B&V's CPUL design concept in Paris, France, as part of the debate series LUP laboratoire d'urbanisme participatif (laboratory for participatory urbanism) organised by AAA l'atelier d'architecture autogéréé. [read more]

Apr 2009 : THE POWER OF COMMUNITY
André Viljoen was invited to talk and answer questions at a film night organised by the Fab Film Company showing short films on urban and rural food growing in Britain and Cuba. [read more]

Apr 2009 : THE URBAN AGRICULTURE CURTAIN
B&V's live food growing installation designed and build with support from Stefan Jordan and students of Hadlow College went on show at the exhibition "London Yields" at The Building Centre in London. [read more]

Apr 2009 : LONDON YIELDS: URBAN AGRICULTURE
London's first urban agriculture exhibition, curated by Jackson Hunt, opened at The Building Centre London, UK. Bohn&Viljoen exhibit three of their projects in drawing, photograph and video. [read more]

Mar 2009 : THE SHOREDITCH TRIPTYCH
The exhibition "Vertical Gardens" launched at Exit Art New York, USA. Bohn&Viljoen show a 3-piece drawing elaborating on an earlier high-rise/high-density proposal for a site in Shoreditch, London. [read more]

Mar 2009 : THE MIDDLESBROUGH URBAN FARMING PROJECT
As part of the current exhibition "Carrot City" at Design Exchange Toronto, Canada, André Viljoen gave a lecture about the Dott07 project to which B&V acted as urban design consultants. [read more]

Mar 2009 : URBAN FOOD GROWING AND URBAN AGRICULTURE
Katrin Bohn was invited to speak at the launch of community group Growing in Haringey, an umbrella organisation for the various growing initiatives in this food-active London borough. [read more]

Mar 2009 : DESIGNING FOR URBAN AGRICULTURE
André Viljoen presented the CPUL concept at the Canadian Green Building Council's guest speaker series "Emerging Green Builders" held at Ryerson University, Toronto, Canada. [read more]

Mar 2009 : TOOLS FOR MAKING CPUL
B&V spoke at the sold-out event Feeding the future city: Designing edible urban landscapes organised by The Architecture Centre Bristol as part of Bristol's "Spring Green 2009" season. [read more]
Feb 2009 : THE SHOREDITCH TRIPTYCH
The proposal for a vertical garden by Bohn&Viljoen has been selected to participate in Vertical Gardens, the third exhibition of SEA (Social-Environmental Aesthetics) at ExitArt New York, USA. [read more]

Feb 2009 : CARROT CITY
B&V shows CPUL design work at Design Exchange, Canada's design centre and museum in Toronto in an exhibition on how the design of cities and buildings can enable the production of food in the city. [read more]

Feb 2009 : THE CONTINUOUS PICNIC
A short film about B&V's public event for "London Festival of Architecture 2008" by film maker Mikey Tomkins of The Popular Society has its premiere at the exhibition Carrot City at Design Exchange Toronto, Canada. [read more]

Feb 2009 : AN URBAN AGRICULTURE CURTAIN
Bohn&Viljoen have been commissioned to design and produce a growing installation for an exhibition on urban agriculture at The Building Centre London to take place in April and May 2009. [read more]

Jan 2009 : DESIGNS ON THE PLANET
André Viljoen co-chaired a masterclass at Designs on the Planet 3, a symposium on teaching sustainability held at Cardiff University, UK. [read more]

Jan 2009 : MAKING A CPUL
André Viljoen talked about the practical sides of B&V's urban design strategy to BHOGG - the Brighton & Hove Organic Growing Group based in Brighton, UK. [read more]

Jan 2009 : URBAN ECO BUS LINE PROPOSALS
Katrin Bohn was invited panel member to a presentation of projects for a more sustainable London at the RIBA London by students from the MA Architectural & Urban Studies at the University of Brighton. [read more]

Jan 2009 : CONTINUOUS PRODUCTIVE URBAN LANDSCAPE
Architectural magazine Volume publishes an article by Bohn&Viljoen in their new issue Volume 18 : To Beyond Or Not To Be : After Zero edited by A Oosterman. [read more]
Dec 2008 : ACTIONS : WHAT YOU CAN DO WITH THE CITY
The book accompanying this international exhibition at the Canadian Centre for Architecture in Montréal and edited by Borasi & Zardini has been published this month. B&V contributed Everything is Continuous, an essay about productive urban space. [read more]

Dec 2008 : THE BATHHOUSE PROJECT
The final design project by undergraduate student M Croxson taught by Katrin Bohn and Colin Priest has been shortlisted for this year's RIBA (Royal Institute of British Architects) Bronze Medal. [read more]

Nov 2008 : THE CONTINUOUS PICNIC
Photographic records and artefacts from B&V's public event (as part of London Festival of Architecture) form part of the international exhibition Actions : What you can do with the city at the Canadian Centre for Architecture in Montréal. [read more]

Nov 2008 : CPULS4TG2016
Bohn&Viljoen's entry for an international competition run by the Architectural Association EES Research Cluster is one of the selected entries published this month in the book Environmental Tectonics : Forming Climatic Change. [read more]

Nov 2008 : SCRUMPTIOUS SOUTHBANK
Diploma and level 3 architecture students from the University of Brighton taught by Katrin Bohn and André Viljoen have presented design proposals for an edible installation at the Southbank Centre London planned to take place in September 2009. [read more]

Nov 2008 : CONVENIENCE FOOD
Katrin Bohn presented CPUL at the Institute of Art & Design at Birmingham City University to students of the MA Urban Design and participated in a workshop, both coordinated by Jayne Bradley and run by Joe Holyoak. [read more]

Nov 2008 : CITY ECO LAB
Photographs from Bohn&Viljoen's series Cuba : Laboratory for Urban Agriculture form part of the exhibition "City Eco Lab" curated by John Thakara for the Biennale internationale design in Saint-Étienne, France. [read more]

Nov 2008 : FLIP FLOP GARDEN
Katrin Bohn donated a piece of work to Flip Flop Art by curators Stuck & Sutton, London. All pieces were auctioned for charity on eBay following this week's launch of the accompanying exhibition at The Maltings Farnham. [read more]

Oct 2008 : GROWING FOOD IN THE BIOSPHERE CITY
André Viljoen was exploring the potential of integrating B&V's design concept for CPUL into a "Biosphere City" with a paper given at Brighton & Hove's Sustainability Conference 2008 in Brighton, UK. [read more]

Oct 2008 : PLACES FROM SPACES
A diploma architecture student from the University of Brighton taught by André Viljoen won the Places from Spaces competition run by SEEDA. L Palmer's proposal for a "Walking Forest" will form a temporary installation in June 2009 in one of Brighton's key open spaces. [read more]

Oct 2008 : LONDON CPUL
André Viljoen presented B&V's work as invited speaker and panelist at the Architecture and Sustainable Development conference, organised as part of the European Forum for Architectural Policies E.F.A.P. by arc en rêve in Bordeaux, France. [read more]

Oct 2008 : LONDON CPUL
Katrin Bohn spoke at the engineering firm Arup about B&V's urban design proposals for London. The talk was part of the Harvest Lectures series run by Eike Sindlinger of Arup London. [read more]

Sep 2008 : THE EDIBLE CAMPUS
André Viljoen and Katrin Bohn are partners in a multi-disciplinary team from the University of Brighton to win an award to carry out design research into the productive greening of the university's open space. [read more]
Sep 2008 : HARVESTING PEARLS
The Europan 9 competition entry by MD11 (Katrin Bohn and Barbara Schmaus with Carsten Liesenberg), is being exhibited at the Bürgerhaus in Spremberg, Germany. [read more]

Sep 2008 : SCRUMPTIOUS SOUTHBANK
André Viljoen talked with Phil Hallett about the potential for growing food and greening the Southbank Centre involving local people during the speakers' session at the Festival of Food organised by the Southbank Centre and Slow Food London. [read more]

Sep 2008 : GROWING TO SCALE
Bohn&Viljoen presented an installation about possibilities of urban food growing at 100% Sustainable, part of London's 100% Design. Curated by IF:Laboratory, B&V were part of a program centred around the theme of "Models of Sustainable Design". [read more]

Sep 2008 : EUROPEAN URBANITY
Harvesting Pearls, the Europan 9 competition entry by MD11 (Katrin Bohn and Barbara Schmaus with Carsten Liesenberg), is being exhibited at the Leipziger Galerien in Leipzig, Germany. The exhibition is running until the 5th of October 2008. [read more]

Jul 2008 : THE CONTINUOUS PICNIC
Bohn&Viljoen spoke about their recently held urban event to an audience of researchers and practitioners in sustainable design at the Sustainable Development Research Forum at the University of Brighton, UK. [read more]

Jul 2008: DESIGNING THE 21ST CENTURY TOWN
André Viljoen was invited speaker at the 5th Annual South Coast Towns Conference organised by the Resource for Urban Design Information (RUDI) and aimed at developing future strategies for the towns of England's south coast. [read more]

Jul 2008 : THE CONTINUOUS PICNIC TOOK PLACE
On the 5th of July, B&V's project about urban space and urban food took place in London Bloomsbury. Over two thousand people came to enjoy the lively local food activities and a convivial and playful urban atmosphere. [read more]

Jul 2008 : CANTILEVER
Bohn and Viljoen exhibited work at Cantilever, an art exhibition that considered the crossovers between fine art practice and architectural concerns. The exhibition, curated by Day and Gluckman, brought together work by artists and architects at Collyer Bristow Gallery, London. [read more]

Jun 2008 : GROWING FOOD FOR LONDON
André Viljoen of Bohn&Viljoen was invited panel speaker to the 1-day international conference on urban food growing at the Greater London Assembly (GLA) organised by London Food Link. [read more]

Jun 2008 : URBAN AGRICULTURE IN LONDON
Melanie Abbott of Farming Today interviewed major players in London's urban agriculture movement - amongst them André Viljoen - for Radio 4's "Farming Today This Week" programme. [read more]

Jun 2008 : THE CONTINUOUS PICNIC
This urban food project by Bohn&Viljoen's team of designers, urban farmers and food enthusiasts was considered "the highlight on Saturday 5th July" by the icon trail, the official guide to London Festival of Architecture. [read more]

May 2008 : TEE'S UP - THE UK'S MOST ORIGINAL FARM
You and Yours, the BBC's Radio 4 regular news programme broadcast a feature by Kas Graham on the legacy of last year's Urban Farming Project in Middlesbrough. Bohn&Viljoen acted as consultants during the project development. [read more]

May 2008 : THE CONTINUOUS PICNIC
Bohn&Viljoen won a Creative Small Grant from Camden Arts & Tourism for their local food installation and public street picnic planned to take place on Montague Place (behind the British Museum) and Russell Square in London. The will happen on Saturday, 5th July. [read more]
May 2008 : DESIGNING FOR URBAN AGRICULTURE
André Viljoen was keynote speaker at the symposium The Role of Food and Agriculture in the Design and Planning of Buildings and Cities. The 3-day symposium was organised by and held at Ryerson University Toronto Canada as part of Toronto's Festival of Architecture and Design 2008. [read more]

Apr 2008 : THE CONTINUOUS PICNIC
The Jellied Eel, London Food Link's magazine published an article about Bohn&Viljoen's Continuous Picnic. London Food Link is supporting the project with a Small Grant for Sustainable Food. [read more]

Apr 2008 : GREEN REVOLUTION
Bohn&Viljoen were invited to speak about their CPUL concept at Creative Capital, a forum for London's creative professionals at The Hospital Club London. Run by a group of designers around Garrick Jones, this session reviewed the impact of the Stern Report and the design challenges it poses. [read more]

Mar 2008 : URBAN JUNGLE
The Guardian published an article by Catherine Early about The Urban Farming Project in Middlesbrough which involved local residents in vegetable growing on an urban scale. Bohn&Viljoen acted as consultants and produced an urban opportunity map for Middlesbrough Council. [read more]

Mar 2008 : URBAN AGRICULTURE FOR LONDON?
André Viljoen was invited speaker in a series of talks initiated by the community charity Dulwich Going Greener in London. He lead a discussion about possibilities for the introduction of Urban Agriculture sites into cities. [read more]

Mar 2008 : THE CONTINUOUS PICNIC : TEST
Level 2 architecture students from the University of Brighton taught by André Viljoen and Nick Hayhurst benefited from a sunny weekend day to set up small spatial installations to "test picnic" on Russell Square and Montague Place, on the route B&V's Continuous Picnic will use later this year. [read more]

Mar 2008 : THE CONTINUOUS PICNIC
Bohn&Viljoen won a grant from London Food Link for their local food installation and public street picnic in central London planned to take place this July on Montague Place (behind the British Museum) and Russell Square as part of London Festival of Architecture. [read more]

Mar 2008 : CONTINUOUS PRODUCTIVE URBAN LANDSCAPE
Katrin Bohn presented B&V's CPUL concept at the 1st Expert Meeting of the research project Renaturierung als Strategie nachhaltiger Stadtentwicklung at the Bundesamt für Bauwesen und Raumordnung (Federal Office for Building and Regional Planning) in Bonn, Germany. [read more]

Feb 2008 : BEYOND OIL
B&V taught a 3-day workshop on productive urban landscape at the Kungl. Konsthögskolan in Stockholm, Sweden. KKH's post-graduate architecture programme, run by Prof. Henrietta Palmer and Michael Dudley, currently explores Beyond Oil scenarios for the Chinese city of Shanghai. [read more]

Feb 2008 : CONTINUOUS PRODUCTIVE URBAN LANDSCAPE
Bohn&Viljoen held a public lecture on their CPUL design research at the Swedish Architecture Museum in Stockholm as part of the museum's emerging series What Matters? [read more]

Feb 2008 : WILLOW WIGWAM
Katrin Bohn helped building a self-growing youth shelter for the playgrounds of a London primary school in this community project run by school parents and supported by the local Wildlife Centre. [read more]

Jan 2008 : THE CONTINUOUS PICNIC
Bohn&Viljoen's proposal for a public street picnic has been selected as one of the core Fresh Food projects of this year's London Festival of Architecture. The event will happen in July inviting Londoners and guests to a day-long celebration of local food and local space. [read more]
Dec 2007 : ONE BRIGHTON
André Viljoen was invited to join the Steering Group Meeting of One Brighton, a trust headed by Crest Nicholson and Bioregional Quintain and committed to creating a sustainable One Planet Living community in Brighton's New England Quarter. [read more]
Mar 2006 : CONTINUOUS PRODUCTIVE URBAN LANDSCAPE
Katrin Bohn gave a talk about B&V's CPUL concept within the Experience! Open Lecture Programme at Manchester Metropolitan University, UK. Students on the landscape architecture course run by John Finlay and Ian Fisher are currently designing a CPUL. [read more]

Mar 2006 : A BUS SHELTER FOR MILE OAK SCHOOL IN BRIGHTON
In this life project, 3rd-year architecture students taught by André Viljoen, Katrin Bohn and Nick Hayhurst at the University of Brighton successfully presented their design proposals for a sheltered space to a local primary school. [read more]

Jan 2006 : UTILITARIAN DREAMS IN HAVANA
André Viljoen and Katrin Bohn, together with Tom Phillips and Glenn Longden-Thurgood, have been invited to produce Utilitarian Dreams in Cuba. Art organisation Gasworks has offered a one-month residency in Havana for Bohn&Viljoen to collaborate with Cuban artists and curator Villalonga. [read more]