Retrofitting Utopia @ UoB (2017/8)
This project examined how productive urban landscapes could be integrated in London Thamesmead. It was taught by André Viljoen and Alpa Depani to undergraduate architecture students at the University of Brighton during the academic year 2017-18.

The studio continued the "Retrofitting Utopia" theme which started the year before whereby significant prototypical developments were revisited and reviewed in the light of contemporary needs and imperatives. Having studied, in 2016/17, the world's first and much replicated Garden City in Letchworth, students now turned their attention to the twentieth century reinterpretation of Ebenezer Howard's model by studying what Le Corbusier termed the 'vertical garden city'.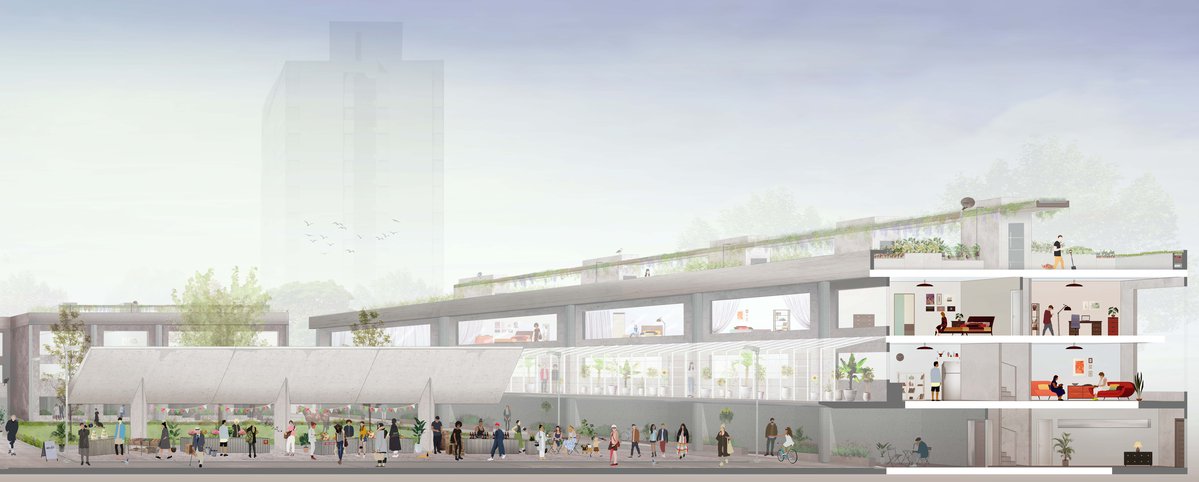 The site was London Thamesmead, an extensive development initiated by the Greater London Authority in the 1960s as a means of addressing London's post-war housing shortage. Conceived as a forward-looking new town, providing a mixed-use programme of housing and recreation, it explored the potential of an expressive and generous modernist architecture utilising high- and medium-rise buildings, set in a parkland with shared recreational and educational facilities.

We worked with the historic social housing provider Peabody who now own a large part of Thamesmead and are responsible for its future. Peabody were keen to explore how the CPUL City concept could be integrated with their own proposals for building resilient and health-enabling environments. Peabody was seeking to identify the opportunities that 'break the mould of community engagement around food growing - too often agency-led, short-term, temporary in nature and using cheap, unsustainable materials... [and instead] invest in quality infrastructure with opportunities for enterprise and opportunities for scale' (personal communication with Lucy Webb, Senior Regeneration Manager, Peabody, 14/6/17).

Our aim was to develop a series of design scenarios enabling the architectural and landscape infrastructure associated with Peabody's blue/green strategies that seek stewardship models for food growing in the context of work and recreation. Harry Harwood's proposal, shown here, is representative of the scale and care with which students designed their interventions in this existing but fragile community.
RETROFITTING UTOPIA @ UOBlocation of course:
School of Architecture and Design, University of Brighton, Great Britain
type of course:
undergraduate architecture program, two final years (yr 2 and yr 3), Bachelor of Arts
dates:
2017 — 2018
studio staff:
André Viljoen, Alpa Depani
links:
blog of the
School of Architecture and Design @ UoB
/ list of all
our teaching