2019-Nov-05 : INVITE: Launch of the Platform Productive Urban Green in Berlin!
The big moment is close!
The first section of the online platform "Productive Urban Green" will go (test)online during the final presentation of the project on
Tuesday 26th November 2019, 5pm – 7pm,
at Senatsverwaltung für Umwelt, Verkehr und Klimaschutz [Senate Department for the Environment, Transport and Climate Protection], Am Köllnischen Park 3, 10179 Berlin. This is a public, free event. However, we do ask for prior registration under
kontakt@feeding-berlin.de
.
Katrin Bohn is a founder member of the Berlin-based
AG Stadt & Ernährung [Working Group City & Food]
and, with Beatrice Walthall, accompanies the project for this group.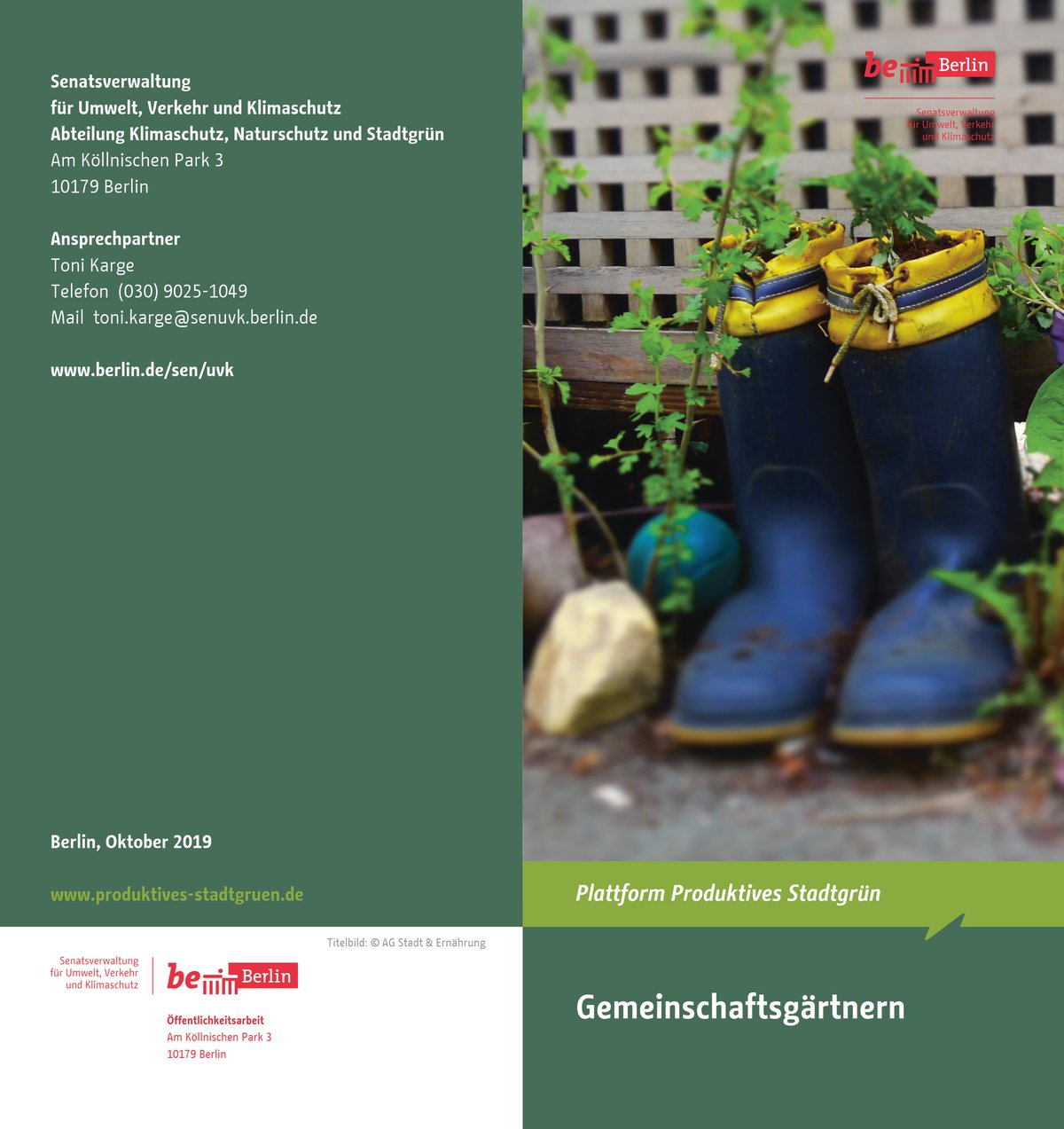 Here the full invitation in German:
Liebe Gärtner*innen und Interessierte,

hiermit möchten wir Sie im Namen der SenUVK zum Launch der Plattform Produktives Stadtgrün einladen.
Wesentlicher und erster Baustein der Plattform ist die Website "Gemeinschaftsgärtnern". Seit Februar 2019 wurde diese Website mit Berliner Akteur*innen verschiedener Berliner Gemeinschaftsgärten gemeinsam erdacht und abgestimmt, damit sie zu einem innovativen Werkzeug des Austausches und Netzwerkens der Berliner Gärtner*innen werden kann. Nun geht die Website in eine 2-jährige Testphase. In der öffentlichen Veranstaltung werden zentrale Inhalte und Funktionen der Webseite vorgestellt. Neben einer umfassenden Gartenkarte, wird auf der Website u.a. auch der strategische Prozess zur Entwicklung des gesamtstädtischen Konzepts für urbane, Klein- und interkulturelle Gärten sichtbar und kann so im angelegten Forum der Website gemeinsam diskutiert werden.
Die Veranstaltung findet am Dienstag, 26. November 2019 | 17-19 Uhr in der Senatsverwaltung für Umwelt, Verkehr und Klimaschutz (Am Köllnischen Park 3, Raum 402, 10179 Berlin) statt.
Aus organisatorischen Gründen bitten wir um vorherige Anmeldung unter
kontakt@feeding-berlin.de
.

Mit freundlichen Grüßen,
AG Stadt & Ernährung, Katrin Bohn und Beatrice Walthall
For more information see the
PRACTICE page
on this website.
For information on the Working Group City & Food see
here
.