2020-Mar-16 : Plattform Produktives Stadtgrün goes live!
It is with great pleasure that we announce the full going-live of the interactive website
Plattform Produktives Stadtgrün [Platform Productive Urban Green]
! Commissioned and hosted by the Senate of Berlin, Germany, it can be found here:
https://www.berlin.de/gemeinschaftsgaertnern/
Please do use the website abundantly! It is open – and hopefully useful – to anybody, regardless of whether you are a Berlin-based community gardener or an urban-food-system researcher or city planner based elsewhere.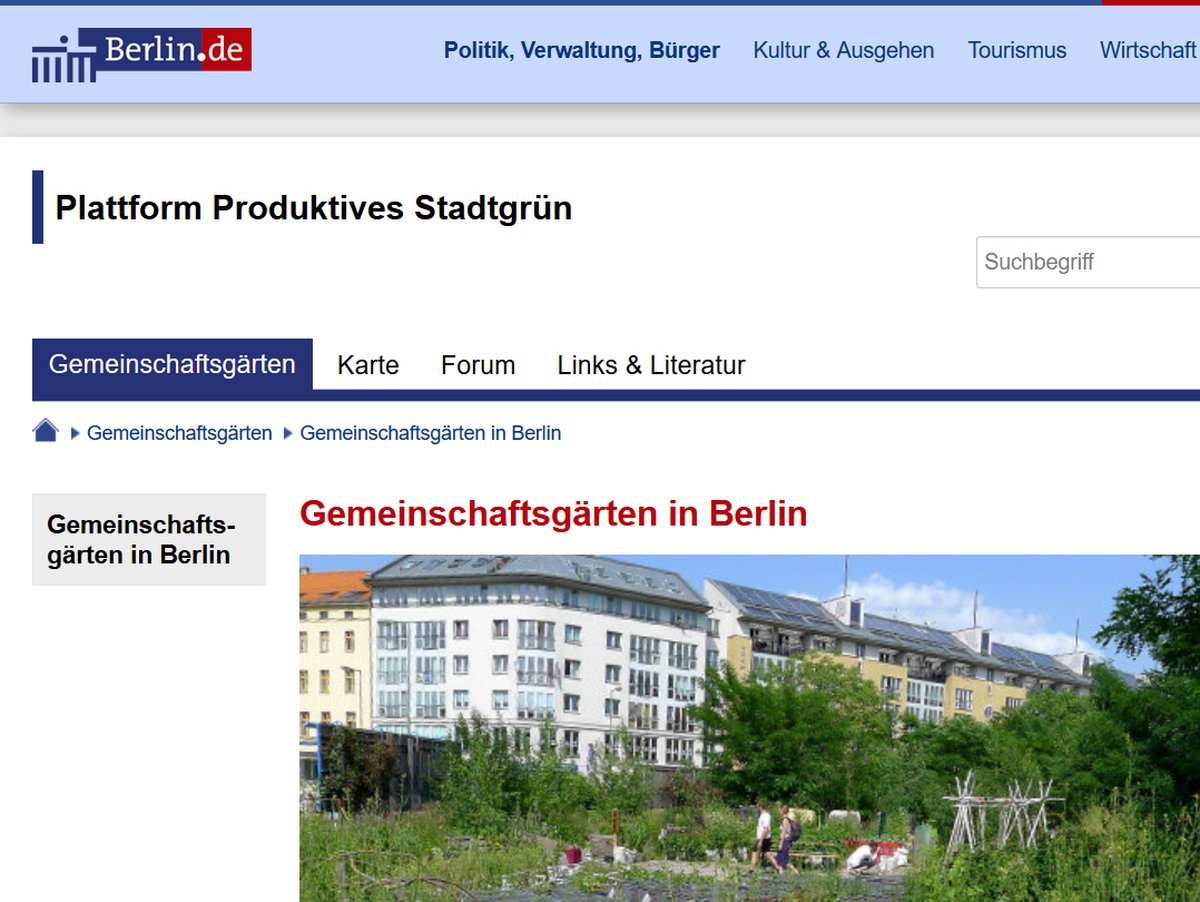 The new website Community Gardening [Gemeinschaftsgärtnern is the first building block of the Platform Productive Urban Green to which, in the future, other elements of Berlin's productive green infrastructure will be added.

The new site boasts information on Berlin's community gardens and places them in their national and international urban design and planning context. It also contains an interactive map and database about the majority of Berlin's community gardens (210 to date!) as well as a links & literature list. In response to the participatory development process that accompanied the design of the Platform, the website also has a Forum function allowing to communicate directly with the Berlin Senate, other community gardeners and the general public.

The Platform has been developed by the AG Stadt & Ernährung [Working Group City & Nutrition] with local community gardening activists and web designers Scholz Constructors for the Berlin Senate Department for the Environment, Transport and Climate Protection [Senatsverwaltung für Umwelt, Verkehr und Klimaschutz]. Katrin is a founding member of AG Stadt & Ernährung and, with Beatrice Walthall, worked on this project for more than a year.
After its final public presentation and semi-public launch at the end of November 2019, the site entered a semi-public test phase until the end of January 2020 that allowed an interested public and the Senate's own internet editorial office to comment on any aspects of the site. Comments were incorporated last month.
The
Platform Productive Urban Green [Plattform Produktives Stadtgrün]
can be found
here
.
For information on the AG Stadt & Ernährung [Working Group City & Food] see
here
.
For more information on the design of the project see the
Practice page
on this website.
To keep up to date with the project's development see our blog
Productive Urban Landscapes
.