2020-Jun-19 : Wild Pollinators Project starts at Spiel/Feld Marzahn.
Planned since several months, the Wild Pollinator Project (full title Bienen, Bestäubung und Bürgerwissenschaft in Berlins Gärten'[Bees, pollination and crowd science in the gardens of Berlin]) has just started in the neighbourhood garden Spiel/Feld to the Northeast of Berlin that Katrin had co-initiated in 2011.

The project is a collaboration of Spiel/Feld with the National History Museum Berlin [Museum für Naturkunde Berlin] and the Technical University of Berlin [Technische Universität Berlin]. Overseen for Spiel/Feld by gardener (and former chair) Maxi Greiner, a weather logger has just been installed in the garden, and next week, a number of flowering tomatoe plants will follow.
Spiel/Feld is one of 24 community gardens in Berlin to participate in the project.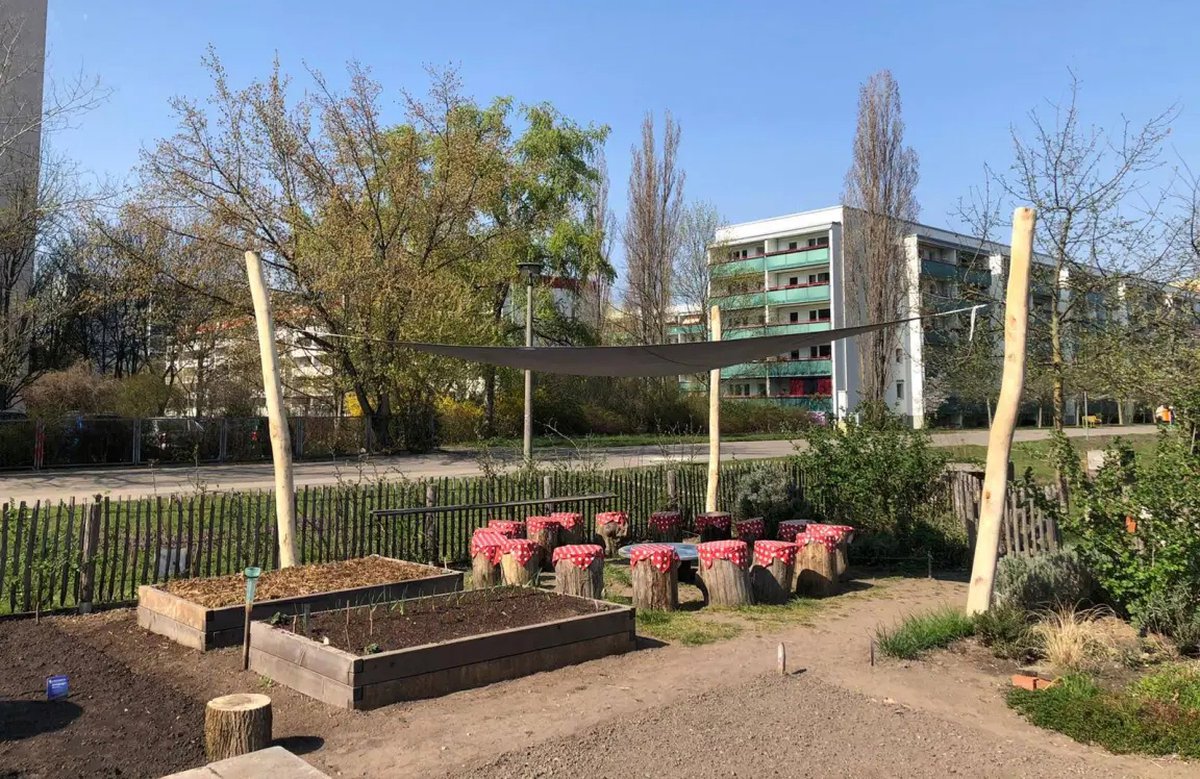 During this spring and summer, interested gardeners will observe the pollination function on selected tomato, pumpkin and/or pepper plants. They document when their plant 1) flowers, 2) is pollinated and 3) bears fruit. At harvest, they measure the size of the fruits. They document when their plant 1) flowers, 2) is pollinated and 3) bears fruit. At harvest, they measure the size of the fruits. Scientists of the TU Berlin collect wild bees in these gardens and document the conditions of the different gardens. The results serve as a basis for the joint development of measures to promote pollinators in community gardens. With an associated photo project on wild pollinators, the project team will take a closer look over a longer period of time and accompany the growth of the plants. The wild bees collected represent the respective pollinators of the plants. The insects will be digitised in the Museum für Naturkunde Berlin.

As the Museum für Naturkunde describes, the project happens against the backdrop that 'cities are home to numerous insect species. Many of these insects are specialised plant pollinators, such as wild bees, butterflies or even hoverflies. Berlin is home to more than 300 species of wild bees, half of which are on the Red List and are protected. How can urban gardens contribute to wild bee protection in Berlin? How can gardeners and urban planners support wild bees and their pollination effects in community gardens?'