2020-Oct-12 : Letter on sustainability published
In September 2020, the editor of the Royal Institute of British Architects (RIBA) Journal asked readers to respond to the question 'How best do you define 'sustainability', that very elastic word?'

We were pleased to see that ours was one of three letters to be published in the October edition of the RIBAJ as response to this question. Alongside a letter by Mark Slocombe advocating allowing time for the planet to heal, Brian Ford, Emeritus Professor of Architecture at Nottingham University, made the case for natural cooling systems in preference to conventional air conditioning (co-incidence: in the late 1990ies, when we started on the CPUL concept, André had many conversations with Brian Ford).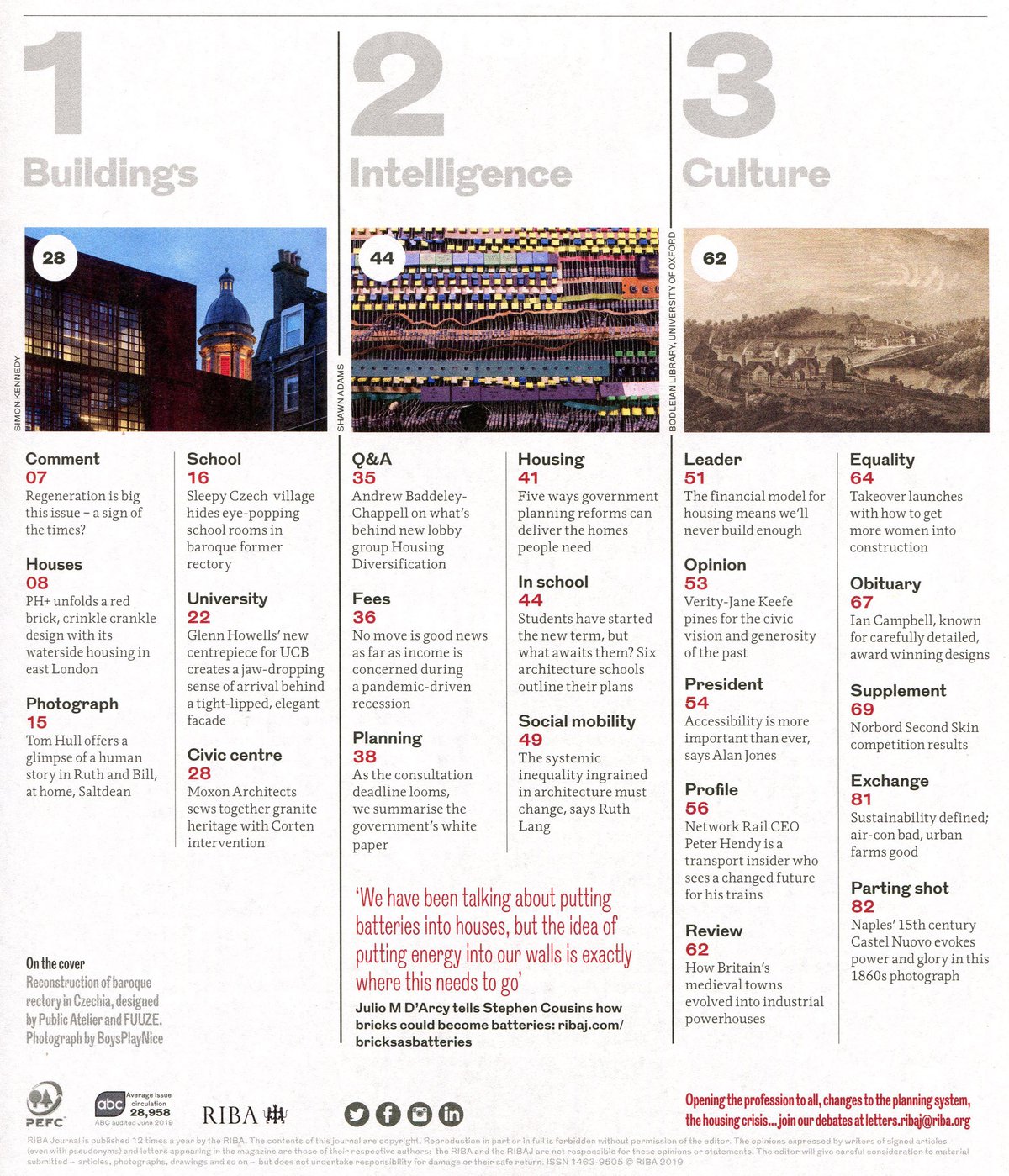 The RIBAJ summarised the exchange of ideas in a telegraphic style: 'Sustainability defined; air-con bad, urban farms good' and highlighted our comment that 'food-productive urban landscapes should be mandated in planning legislation'.

Here is a copy of our letter as published:
'It was heartening to see Greater London Agriculture by Tim Rodber and Dominic Walker as the city-scale winner in Rethink 2025 (RIBAJ August, pg. 12). The judges' comments reminded us of just how far attitudes have changed in the past twenty years: arguments and practices in favour of nature-based solutions for urbanising societies have accelerated within a context of drives to more equitable and circular economies. Indeed, the number of (small) productive urban landscapes in London has grown significantly, and all over Europe, cities are taking on similar ideas ever more systematically, even at larger scale.
But the government's recently launched Planning for the future consultation seems to be moving English planning policy in exactly the opposite direction. Within a policy advocating 'build, build, build' and designating sites for 'growth, renewal or protection', it is difficult to see where within this policy the space for urban agriculture actually sits. We know how to design food-productive urban landscapes, we certainly feel their attractiveness, and we now need to get them mandated in planning legislation.'
Bohn&Viljoen's letter was published in the
RIBA Journal
, vol. 127, issue 10, p. 81.
For further information see the
journal's own website
.
For an overview of all our articles see this
publications list
.