2021-Mar-22 : Presenting our work at IAAC Barcelona
The week before last, Katrin was invited to give a talk at the Institute for advanced architecture in Catalonia (IAAC) Lecture Series which, due to the Covid pandemic, happened online.

In the first part of the event, Katrin reflected on the development of urban agriculture as a subject within urban design and architecture using the practice's own work to illustrate the move from a fringe interest to centre stage. The second part of the event was an engaged question and answer session ranging from infrastructural scale to plant detail.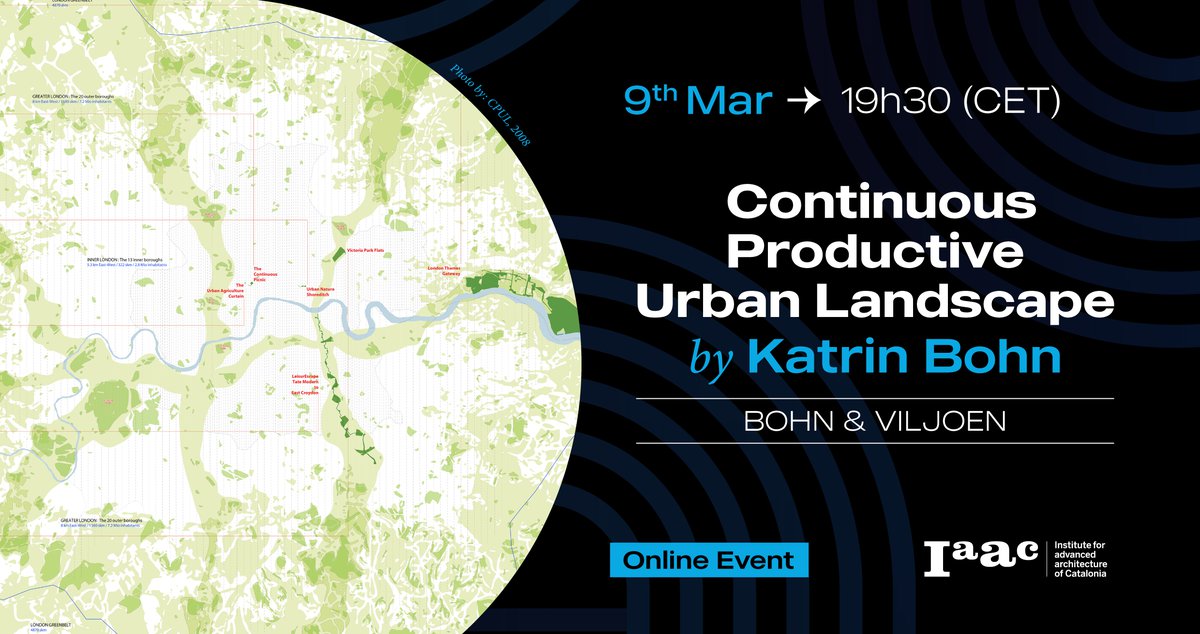 We abstracted our lecture like this:
It is a great challenge for local regions all over the world that urban territories "scatter" urban (building) activities into the rural, thereby often absorbing fertile agricultural land. Land that was previously used for food growing, among other things. At the same time, the resulting "scattered metropolis" – or urban sprawl – provides much desired opportunities for residents and businesses. There are so many of them today, they are so keenly developed, yet can be so unpleasant and unsustainable, that our aim must be to rethink the current separatist notions of city and countryside, of urban and rural and peri-urban design. This is especially true in relation to food – one of the most fundamental needs of our cities, as well as one of the most fundamental products of our countryside. Paradoxically, most initiatives that challenge the loss of city-near agriculture and question contemporary food provision started in the urban. The CPUL design research is an example of this: it studies urban agriculture, the scattering of the rural into the urban. The lecture will examine issues and interdependencies when it comes to feeding our cities and the role urban and landscape design can play in their future. It will draw on examples from Bohn&Viljoen's design research practice contextualising those within the current green infrastructure and nature-based solutions discourse.

The Barcelona-based IAAC, since 2000, runs its international IAAC Lecture Series 'in which architects and experts from a variety of different disciplines present their work. The lectures are open to the public, consisting of a high-quality cultural activity open to the city of Barcelona. Some of the Guest Lecturers for IAAC Lecture Series of the past years are: Bjarke Ingels, Winy Maas, Greg Lynn, Massimiliano Fuksas, Wolf Prix, Reinier de Graaf, Ben Van Berkel, Jaime Lerner, Gunter Pauli, Iñaki Abalos, Mark Burry, John Thackara, Carlo Ratti, Bernard Khoury, Indy Johar,Shigeru Ban, Stefano Boeri, Peter Cook, Hernan Diaz Alonso, Peter Eisenman, Yona Friedman, Thom Mayne, Farshid Moussavi, Nicholas Negroponte, John Palmesino, Michel Rojkind, Bob Sheil, Peter Trummer, Bernard Tschumi'.
Details of Bohn&Viljoen's lecture can be found
here
.
The IAAC Barcelona is
here
.
For an overview of all our presentations see this
presentations list
.