2020-May-15 : International Association of Landscape Ecology (IALE) symposium
As part of the North American IALE Association's annual conference, Andre Viljoen joined Prof Makoto Yokohari from the University of Tokyo and colleagues from Canada, USA and Japan to convene a special symposium on Borderless Landscapes: Envisioning resilient urban/rural mixed landscapes with agri-activities/lands. The conference was scheduled to run from the 11th to 14th May 2020 in Toronto, and, due to the Covid-19 pandemic, was rapidly and successfully re-planned to become a virtual event, consequently saving many air miles.

The special symposium was structured around a series of research studies undertaken by academics and post-graduate research students from the University of Tokyo, and included Andre's work in Nerima City Toyko.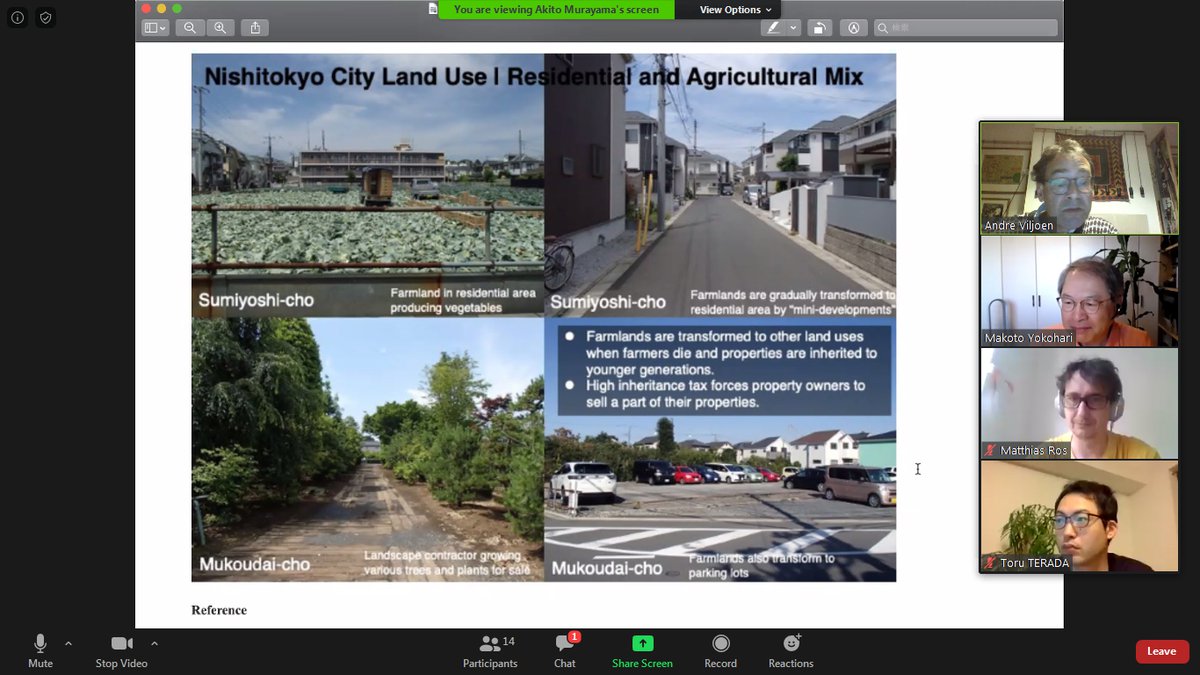 We also discussed work on productive landscape systems incorporating agroforestry led by Prof. Mattew Potteiger from the State University of New York, whereas Dr Matthias Rös, from the Mexican Instituto Politécnico Nacional, presented research findings about tree diversity in the urban and agricultural landscapes of Oaxaca.

The research findings from Tokyo covered many aspects critical to understanding the potential future for the city's urban agriculture. One was, for example, the current tension between a growing recognition by city authorities, citizens and farmers of the environmental and social benefits of urban agriculture yet the high taxation, especially inheritance taxes, that result in farmers selling or building on good agricultural land. A number of in-depth studies looked at quantifiable issues, such as the potential contribution urban agriculture could make to nutritional requirements in densely built-up areas of Tokyo, while others looked at relationships of residential buildings to urban farms, at the perception of residents and at the role urban agriculture could play in integrating immigrants.

Borderless Landscapes was led by Prof Yokohari, who explained how he imagines this idea not as the elimination of boundaries or edges, but of recognising that multiple boundaries and edges exist, as typified in the many transitions between interior and exterior found in traditional Japanese architecture. This connected back to Andre's CPUL proposal for Nerima that proposed 'by developing a "thick edge" to one side of the path [of a particular site], people are encouraged to stop and linger, sit, read, play, talk and enjoy being adjacent to farmland, while not disrupting the farmer's work'.
For further information on the IALE conference see
here
.
For information on the special symposium co-convened by Andre see
here
.
To keep up to date with our work in Tokyo see our blog
Productive Urban Landscapes
.